Macon
Customer Service Center
200 Cherry Street
Macon, GA 31201
Sunday - Monday:

Closed

Tuesday - Friday:

08:00 am - 06:00 pm

Saturday:

08:00 am - 12:00 pm
Services Offered
First Issuance
Renewals
Replace Stolen/Lost
Out of State Transfers
Regular Road Test
Motorcycle Skills Test
Reinstatements
Driving History Reports (MVR)
Insurance Reinstatements
Regular Knowledge Exam
Motorcycle Knowledge Exam
CDL Written Exams
Additional Information
Special Directions
This office is located in the historic train station in downtown Macon. It's next to the Georgia Music Hall of Fame and Museum.
macon_0.jpg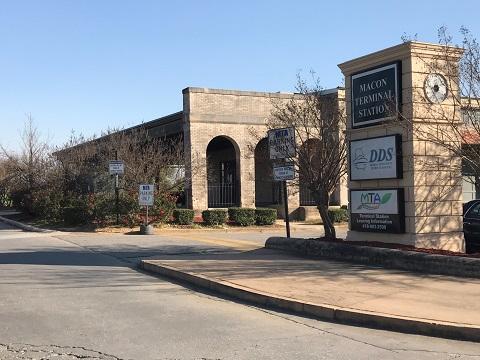 Skip a Step! - Cloned
Testing Information
Non-Commercial Knowledge Exams must begin at least 30 minutes before the center closes. Commercial (CDL) Knowledge Exams must begin 45 minutes before the center closes. This allows adequate time for testing and issuance. 
Knowledge Test Must Begin by:
Weekday

 CDL           5:15 pm 
All Others   5:30 pm

Saturday 

CDL           11:15 am
All Others  11:30 am
Motorcycle Skills Test
Wednesday - Friday  8:30 - 10:30 am  
Related Terms
Real ID Documents -  Documents to get a Real ID license, id, or permit.
Fees and Terms - Fees to apply, renew, and update your license, id, permit, and more.