License Information for Business Partners (Barcode)
DDS appreciates your support as we transitioned to Georgia's New Licensing System!  In addition to verifying driving privileges, Georgians are now presenting new Interim and permanent documents for proof of identity as they conduct business.
Barcode Information for Licenses issued as of June 2019
License Printed beginning June 2019
Examples of the new Adult and Under 21 License, as well as the new Interim (no longer printed on secure paper) are shown here:
Adult Permanent License
GA DL O21 Female-medium_0.jpg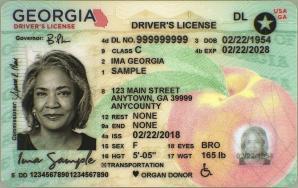 Under 21 Permanent License
GA DL U21 Male-cropped_0_0.jpg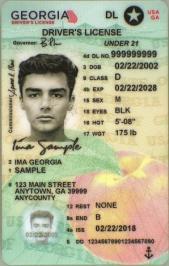 Sample Interim:
Barcode Information for Existing Licenses
In addition to providing additional security, the Barcode on the back of Georgia's Licenses and IDs enables our business partners a method to quickly verify and capture the data presented by customers.  Please review the brochure for more information.
In addition, a sample Barcode Test Document is attached for downloading.
This enables businesses to print actual card samples to use for testing.
Examples of the existing licenses are below.  Please call (678) 413-8400 if you have questions.
Secure Process
Customers are first issued an Interim License/ID printed on secure paper with a photo and signature.   Secure Interim DL/IDs can be valid for up to 120 days.
Adult Interim
adultinterim.png

Under 21 Interim
under21.png

A permanent license/ID will be mailed to a customer's address on file with DDS before the Interim expiration date. To protect your identity, please destroy the Interim when the permanent is received.
Adult Permanent License
aultpermanant.png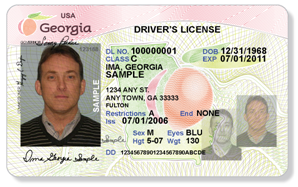 Under 21 Permanent License
under21p.png